Scott and Rhonda > Family History > Patterson
Patterson Family History
---
The Patterson Family
According to oral family history, the Pattersons come from Scotland. Thomas Patterson was born October 24, 1788. His birthplace is listed as Pennsylvania in his daughter Hellen's census record in 1880. In 1900 it was listed as Delaware. His parents have not been identified, but many Scots-Irish families immigrated to Delaware before heading farther west. On August 27, 1812, at the age of 23, Thomas married Sarah Jennings, 19, who was born March 12, 1793 in German Township, Fayette County, Pennsylvania. They settled across the river in Cumberland Township, Greene County, Pennsylvania (south of Pittsburgh). Their first child, my ancestor, Henry Jennings Patterson was born July 24, 1813, followed by Phoebe in 1815, William in 1817, Roda Ann in 1820, Elizabeth in 1823, and Mary Jane in 1826. Sadly, Mary Jane only lived six months. It was to be the first of many tragedies for the Patterson family. Their next son, John, died in 1830 at the age of two, but Sarah hardly had time to grieve, for only two months later, her next child, Sally was born.
The fall of 1832 would bring more sorrow to the family, with the deaths of four of the remaining children, believed to be caused by a cholera epidemic. William died on September 20th, at the age of fifteen. A week later, on the 27th, twelve year old Roda Ann died. Eight days afterwards, on October 5th, two year old Sally also died. Phoebe, 17, lingered on until October 29, then she, too, succumbed. Out of eight children, the Pattersons were left with two: 19 year old Henry, and 10 year old Elizabeth.
The following year, 1833, brought a new child, James. Sometime during the 1830's, the family moved across the state line to Monongalia County, Virginia. On May 22, 1836, Hellen. was born. Just four months later, on October 9, 1836, Thomas Patterson died at the age of 47. Sarah was a widow at 43. In the span of six years she had seen six of her children and her husband die. Left with two small children and a teenage daughter, she had only her 23 year old son Henry to depend on, and Henry had reached the age when young men are usually thinking of starting their own households.
We can only speculate on the security and peace of mind that a marriage proposal from physician Dr. John Brookover must have offered. Sarah married Dr. Brookover on November 30, 1839, just three weeks before Henry married Martha Jones (pictured), at the home of Jacob Lantz in Greene County, Pennsylvania. According to an affidavit from Jacob Lantz's son filed with Martha's Civil War widow's pension file, two justices of the peace had a disagreement about which one of them would perform the marriage ceremony.
In the early 1840's most of the family moved across the Ohio River to Monroe County. Ohio. Elizabeth married Perry Baldwin on Feb 11, 1845. They had seven children. James married Mary Hawkins on March 28, 1858. They lived in Kentucky and had three children.
Sarah and Dr. Brookover adopted a little girl, Mary Jordan, who was born October 1, 1846 in Ohio. Sadly, the little girl died in 1860, at the age of 13.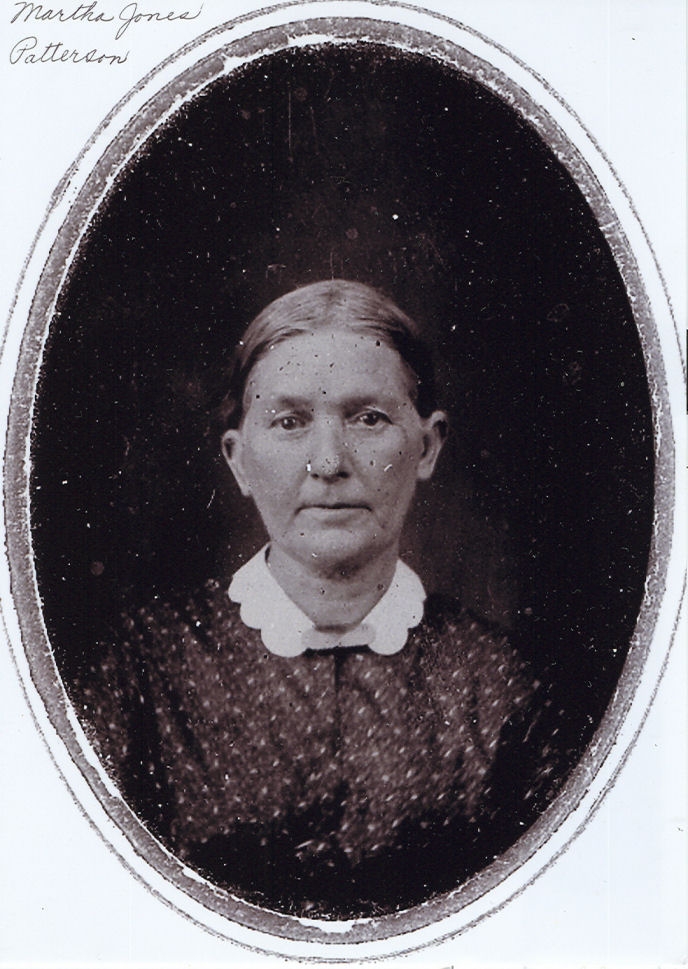 Meanwhile, Henry and Martha were raising a family. Although they lost their first child, Rhoda Ann at one month of age, those that followed survived to majority: Eleanor Jane, Mary Ann, Thomas Gilbert, David Jennings, William Leroy, John Leonard, Sarah Elizabeth, Phoebe Helen, and Phillip Henry. (Eleanor Jane, their second daughter, would grow up to be the fiery tempered grandmother that vexed my Great great aunt Rouie Rutledge Howard in her childhood.) After about eight years in Monroe County, Henry and Martha purchased land from the government in Washington County, and in 1850 the family settled down on their new farm.
In 1859, their eldest daughter, Eleanor Jane received a proposal of marriage from David Grimes Meade. As she was only seventeen, she had to get her parents' permission before a marriage license could be granted. Her parents gave their consent, and on May 5, 1859, the marriage took place.
Two years later, the Civil War began. Henry, who was already a grandfather, was old enough to sit back and watch younger men fight the war. Nonetheless, on February 29, 1864 at the age of fifty, Henry signed up and marched off to serve his country. Unfortunately, it was to be an ill-fated effort. He suffered a back injury in a 10 foot fall from the barracks stairs on March 5th 1864, and was left an invalid, spending much of the war's remainder in army hospitals, plagued by residual injuries. He returned home in 1865, but never regained his strength. and died on October 14, 1867, two years before his mother, Sarah. Sarah Jennings Patterson Brookover lived to be 76, having outlived two husbands and all but three of her ten children. She died of kidney failure in Washington County, Ohio on July 14, 1869.
Henry's widow Martha remained on the farm with the help of her sons and a pension from Henry's Civil War Service. Tragedy continued to dog the family. In 1869 her son William drowned in the Ohio River at Parkersburg, West Virginia, and in 1887 another son John met the same fate at Wheeling, West Virginia. Martha died of heart failure August 14, 1894, at the age of 73.
(Much of what is known about the Patterson family comes from papers belonging to Hellen Marr Patterson, the youngest daughter of Thomas and Sarah Patterson. She married Daniel Paynter, an Englishman, and lived in Kansas. Hellen's name comes from the heroine of a popular novel of the day about William Wallace called The Scottish Chiefs. After Hellen's death in 1916, one of her grandchildren copied her family records and gave them to the Meades, The facts given in those papers are supplemented and substantiated by my research into available official records. Further information, including the pictures of Martha Jones Patterson and Sarah Jennings Patterson were given to me by Patterson cousin Mildred Cady.)
Links:
Rhonda Steedman's Family History Page

This page was last updated on 7 February 2012
Copyright © 2012 Rhonda Steedman All Rights Reserved