Scott and Rhonda > Family History > Meade
MEAD/MEADE
Henry Mead
Henry Mead (Photo, right) was born in 1816 in Maryland, the son of Uriah and Ann Mead. In 1833 he married Orpha Dodd in Belmont County, Ohio. Orpha was the daughter of Joseph and Anna Dodd, who were Quakers, and their pedigree can be traced back to 1650 through the records of Quaker Monthly Meetings in Ohio, North Carolina, and Virginia.
Henry and Orpha had eight children, Elizabeth, Anna, David, Nancy, Mary, Rachel, Joseph, and Samuel. The family moved several times, living in Highland and Monroe Counties before settling in Washington County in 1859.
By the time of the 1880 census, Orpha had become an invalid, bedridden and apparently mentally incapacitated. During the 1880's, at least three of their children went west. David and Joe moved to Arkansas, later moving to Oklahoma. Anna moved to Kansas, and later to Oklahoma. Sometime after Henry Mead's death on Feb 5, 1890, and before 1900, Orpha was placed in the state hospital at Athens, Ohio. She died November 23, 1905. Henry and Orpha are buried Knob Cemetery in Washington County, Ohio.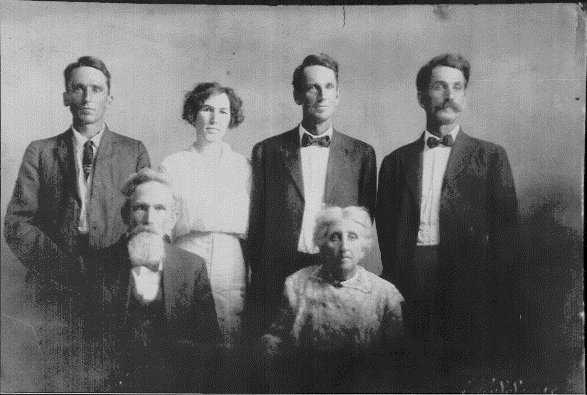 David Grimes Meade
David Grimes Meade was born August 31, 1840 in Highland County, Ohio. On May 5, 1959 David Grimes Meade married Eleanor Jane Patterson, daughter of Henry and Martha Patterson, in Washington County, Ohio. David and Jane had six children:

Abner (1861-1934)
Thomas Gilbert (1861-1900)
William Henry (1865-1931)
Otho Elmer (1867-1953)
Mary Elizabeth (1871-1948)
John David Meade (1878-1964)

(Photo, left, shows David and Jane with four of their children)

David and Eleanor Jane headed west for Arkansas in 1885, accompanied by Jane's sister Sarah, who was married to David's nephew, Theodore "Doc" Powell. Before they left, according to their granddaughter Rouie Rutledge Howard, David promised Jane's widowed mother (her "sainted mother" in his words) that he would always take care of Jane.

According to a Meade cousin, the spelling of the family name was changed from Mead to Meade by David's son William Henry Meade.

In 1901 David and Jane Meade left Arkansas for Oklahoma, and settled in Kingfisher County. After their daughter Mary separated from Jake Rutledge, she and her daughters lived with David and Jane for a while. Rouie recalls some of this time, remembering her grandfather David as a very patient man, and her grandmother Jane as being rather hot-tempered. David was on crutches, as he only had one leg. He farmed in Altona, near Kingfisher, then moved to town and operated a livery stable.

Jane died on October 26, 1918. David's mind failed as a result of a stroke, and his daughter and a daughter-in-law kept an eye on him so that he didn't wander off. He died on November 22, 1925 in Houston, Texas, and is buried in Kingfisher, Oklahoma.
Links:
Rhonda Steedman's Family History Page

This page was last updated on 27 February 2012
Copyright © 2012 Rhonda Steedman All Rights Reserved