Scott and Rhonda > Family History > Jennings
Jennings Family History
---
The Family of Henry and Rhoda Jennings
Henry Jennings was born February 20, 1765 at Morristown, New Jersey. He was the second of five surviving children, and the oldest son of Zebulon Jennings, Jr. and Joanna Little. Most of the children were baptized at the First Presbyterian Church of Westfield, New Jersey. When Henry was eleven, his father died. His mother Joanna remarried to Ephraim Woodruffe, with whom she had one daughter, Anne. Before 1787, the family moved to Fayette County, Pennsylvania. Henry is listed as a taxpayer in Springhill Township for 1787. Joanna died before Ephraim, and he remarried a woman named Fanny. Ephraim's will lists Anne and her children as Sally and Ephraim McClelland. He also lists the children of Joanna's first marriage to Zebulon Jennings Jr., Sarah [wife of Jonathan] Ridge, Henry, Jonathan, Susannah [wife of Isaac] Fordyce, and Jacob.
Henry married Rhoda Leslie on March 25, 1790. Rhoda was born Oct 21, 1769 in Pennsylvania. She had a sister named Phoebe Leslie who married John Wolfe on March 22, 1792, but more research is needed to identify their parents.
Tracing the Leslies
In the 1850 census of Fayette County, PA, Rhoda's birthplace is listed as Pennsylvania. Interestingly, in 1880, three of her five surviving children list her birthplace as PA, but also incorrectly list their father's birthplace as PA. The other two surviving children are correctly listed with their father's birthplace as NJ, with one having her mother's birthplace as NJ, and the other listed as Ireland. The family was Presbyterian and many of the settlers in the area were Scots Irish. A working theory is that the family came to Pennsylvania, possibly through New Jersey, having immigrated from Ireland, and were probably originally Scottish. There were other Leslie families in Fayette County who had been recorded in Westmoreland County before Fayette County was created, but early records are scarce and no relationship has been found.
Further clues:
One of Rhoda's grandsons was named James Leslie Morrison
One of Phoebe's descendants was named William Leslie Hanlon
They are listed in the 1790 Census in Springhill Township, Fayette County. Their first child, David, was born March 23, 1791, followed by Sarah on March 12, 1793. By 1795 they had moved up the river to German Township near Masontown, where Henry bought 220 acres of land on the Monongahela River. Henry and Rhoda's son Jacob was born there in 1796, followed by a daughter Mary in 1798. The 1802 tax list for German township shows Henry as paying tax on 100 acres, 2 horses, and 2 cows. In 1803 Elizabeth was born, then Henry in 1806, Jonathan in 1808, and finally, Rhoda in 1810.
Having finished the task of having children, it was time to begin marrying them off. Though David, the eldest, never married, Sarah Jennings (pictured) married Thomas Patterson on August 27, 1812. They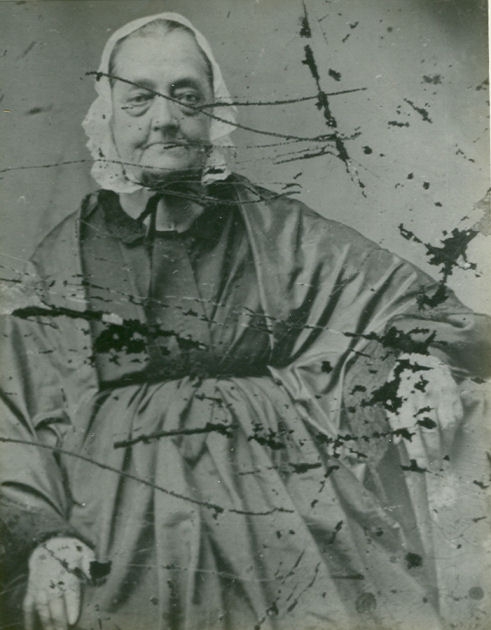 settled just across the river in Cumberland Township, Greene County, Pennsylvania. Jacob married Nancy Crosier and settled in Fredericksburg, Ohio. They had three children. In 1820 Mary married Thomas Morrison and moved to Morrow County, Ohio and raised seven children. One of her sons, Robert Morrison, was a Presbyterian minister and a founding member of Phi Delta Theta fraternity along with his cousin, John Wolfe Lindley, grandson of Rhoda's sister Phoebe Leslie. Elizabeth married William Laughead, eventually settling in Iowa. She was the mother of five children.
While Henry was able to enjoy the first of his grandchildren, he did not live to see the last of his children married. He died May 23, 1827, at the age of 62, and is buried in George's Creek Presbyterian Graveyard, in Fayette County, Pennsylvania.
Rhoda now depended on her son David to run the family farm. Her life was saddened by the loss of four grandchildren, children of her daughter Sarah, in an epidemic in the fall of 1832. Life went on, though, and soon her remaining children married. In 1837, Jonathan married Nancy Gettys and moved to Meigs County, Ohio. His sister Rhoda married David Auld and raised a family near McKeesport, Pennsylvania. In 1840, Henry Jr. brought his new bride Catherine Brownfield from Smithfield, Pennsylvania. They were the parents of twelve children.
With the marriages of her daughter Sarah's children Henry and Elizabeth Patterson, Rhoda soon became a great grandmother. Her grandson Robert Morrison also lived with her briefly around 1843 when he taught school for a term nearby, according to his biographical sketch in The Scroll of Phi Delta Theta. Another of Sarah's children, James, came to stay with Rhoda when Sarah moved to Ohio, as he is enumerated with her in the 1850 census. Surrounded by grandchildren, and cared for by her son David, Rhoda lived on the family farm until her death November 13, 1852.
David Jennings died June 13, 1855, and his will meticulously describes the household belongings he distributes among his numberous siblings and their children: the 75 acre farm, five horses, two saddles, two red and white cows, two white cows, three beds and bedding, a cupboard, dishes, tables and kitchen equipment, a chest, three pairs of boots, his clothing, and the clothing of his late mother.
Of the other Jennings children it is known that Jacob died in 1868, Sarah in 1869, Mary in 1883, all in Ohio. Henry and Catherine moved to Dallas Center, Iowa, where Henry died in 1890.
Jonathan Jennings' life, like that of his sister Sarah, was to be marred by tragedy. His first wife, Nancy, died in 1852, a month after the birth of their youngest daughter. Left to raise seven children alone, Jonathan married Anne Fleak in 1858. They had two children together. Meanwhile, the Civil War was raging, and in 1864, one of Jonathan's older sons, Samuel, was killed in the Battle of Atlanta. The following year, Anne and their two young children died within the span of a week. Just over two years later, Jonathan made a third trip down the aisle with Harriet Elizabeth Holland. They spent almost twenty years together before Harriet's death in 1887. Jonathan, a widower for the third time, lived until 1892. He died in Waverly, Pike Co., Ohio.
Little is known of the other two sisters. Elizabeth died in Iowa between 1880 and 1898, and Rhoda died in Pennsylvania in 1883.
Although primary research has been done and continues to be done, much of the foregoing has been extracted from the book A Genealogical History of the Jennings Family in America, by William Henry Jennings, published 1898. I owe many thanks to Patty Shawker for bringing this book to my attention.
Links:
Rhonda Steedman's Family History Page

This page was last updated on 18 May 2012
Copyright © 2012 Rhonda Steedman All Rights Reserved