Scott and Rhonda > Family History > Gould
Gould Family History
Thomas Gould
Thomas Gould was born about 1785. He married Joan Aplin on Apr 2, 1805 in the parish of Chard, Somerset, England. They appear in the 1841 census living in the parish of Combe St. Nicholas, near Chard. Thomas is listed a butcher. Joan appears in the 1851 census as a pauper, age 70, giving her birthplace as Combe St. Nicholas, suggesting a birthdate around 1781. Thomas and Joan's parents have not yet been identified.
Their children were:
1. Robert, birthdate given as October 28, 1805 when he was baptised as an adult in London, occupation tailor. Moved to London. Married Ann Edwards.
2. Abraham, born about 1808, occupation greengrocer, moved to London. Married Charlotte Willard.
3. John Gould, born about 1811, occupation tailor, stayed in Chard. Married Mary Hutchings and later Ellen Curtis.
4. Sarah, birthdate given as Feb 1813 when she was baptised as an adult in Chard. Further details unknown.
5. William, born about 1818, occupation shoe and boot maker, moved to London. Married Hannah Arthur (see below).
6. James, born about 1819, occupation cheesemonger, moved to London. Married Elizabeth Bridgman Willard, sister of Abraham's wife Charlotte Willard.
7. Samuel, born about 1821. Married Mary Morgan in 1850. Further details unknown.
8. Mary, born about 1826, occupation housekeeper, moved to London. Never married.
9. Edward, born about 1831, baptised in 1849 in Chard, occupation builder, moved to London. Married Elizabeth Mathison. Two of their children were born in Adelaide, South Australia, the ones before and after were born in London.
This family group was pieced together starting with clues in an 1891 family letter from Ellen Gould Jeeves in London to her brother Edward Gould in America that mentions "Uncle James and Aunt Mary." Ellen states that James had remarried and his daughter Lydia still lived at home. It also mentions "Cousin Martha of Wandsworth got married this year." It was possible to eventually use census, marriage and church records to identify the children of Thomas Gould. Cousin Martha was discovered to be the daughter of Robert Gould. I believe the Goulds were nonconformists because no infant baptism records have been found for any of the Gould children, and three of them have recorded adult baptisms. I suspect, but cannot prove that there is a family connection with Abraham Gould, born about 1788, an oil and colour man, with whom Abraham Gould, greengrocer, was enumerated in 1841 in Combe St. Nicholas. This Abraham Gould had also lived in London.
William Gould
William Gould was born about 1817. He was the son of Thomas Gould. In Census Records, his birthplace is listed as Chard, Somerset. William was a shoemaker and gave his residence as Melton Place at the time of his marriage, May 23, 1843, in Saint Pancras Church to Hannah Arthur. The marriage record states that their fathers were both deceased. Hannah was the daughter of William Arthur, a laborer and his wife, Patience Wilkins Arthur. The Arthur family lived at Holmwood, Surrey, and are found in the parish records of Dorking and Betchworth.

William and Hannah were living at 66 Castle Street when their first child, Harriet, was christened at All Souls Church in St. Marylbone on January 9, 1844. Their second daughter, Ellen was christened August 9, 1846 at the same church. They had by then moved to 7 Charlton Street. The third daughter, Emma, born about 1849. A son, Edward, was born on May 23, 1852 in Islington, followed by Charles about 1857 and Arthur, about 1860. In 1861 the family is found living at 45 River Street in Islington, a residence the family would maintain for at least the next 30 years. According to their son Edward's biographical sketch in 1901, his mother had eight children of whom six reached maturity with five living and only one (Edward) in America.

1. Harriet has not been found after the 1861 census, when she was 17.

2. Ellen married William Jeeves and lived near her parents. They had no children.

3. Emma married Fred Sharman and moved to Dalston. They had six children: Henry, Amelia, Harriet, Frederick, Maude, Rose.

4. Edward emigrated to America in 1871 (see below).

5. Charles married Eliza Bendell and lived in his parent's home after their deaths. They had two children, Alice and Harry.

6. Arthur married Elizabeth "Betsy" Wright. They had three children, Caroline, Harriet, and Arthur. Betsy is listed as a widow in the 1881 census.

William Gould died 24 Jun 1884 of bronchitis. By the 1890's, the street name was changed to Tiber Street, because there were too many River Streets. Ellen's letter to Edward in America gives Hannah Gould's death date as March 1, 1891, of acute bronchitis. She is buried in Islington Cemetery.
Edward Gould
Edward Gould was born May 23, 1852 in Islington, England, a suburb of London. He attended Lady Owen's school and then was apprenticed in his father's shoemaking business. His granddaughter, Mary Gould Spears, recollected seeing a sketch of a mill made by Edward during his school days, sketched on the flyleaf of one of his schoolbooks. He must have brought the book over when he emigrated to America in 1871, at the age of 19. Family members say a cousin came with him, but no ship's record has been found to provide a name. Edward settled in Montgomery County, Iowa in May 1872 and used his shoemaking skills to begin a harness shop.

On January 27, 1878 he married Alice Maria Donoho, daughter of Thomas Donoho and Electa Sherman of Montgomery County. Their first child, Bertha Isabell was born in 1880, followed by Nellie Maud in 1883, and Ralph William in 1886. A son, Charles, died as an infant.

In 1886 Edward moved his family to Mineola, Holt Co., Nebraska. Soon Edward saw an opportunity in Oklahoma Territory, and in 1889 he made "the run" on horseback. He moved his family to Hennessey, Kingfisher County, where he set up his harness shop. Edward served as Secretary of the Democratic Central Committee in Hennessey in 1892. The Hennessey Clipper newspaper recorded that in 1893 Edward and Alice traveled to Chicago to attend the World's Fair. In 1896 their youngest child, Clyde Frederick, was born in Hennessey. Ads for Edward's harness shop appeared regularly in the Hennessey Clipper, and inform us that he also sold Studebaker Buggies.

The Goulds were members of the Baptist Church in Hennessey. Locals called Edward "Uncle Ed" in his later years, and recalled him as a jolly fellow. He died suddenly of a heart attack on September 18, 1916. Alice, who had been suffering from cancer for over a year, died two weeks later. They are buried in Hennessey.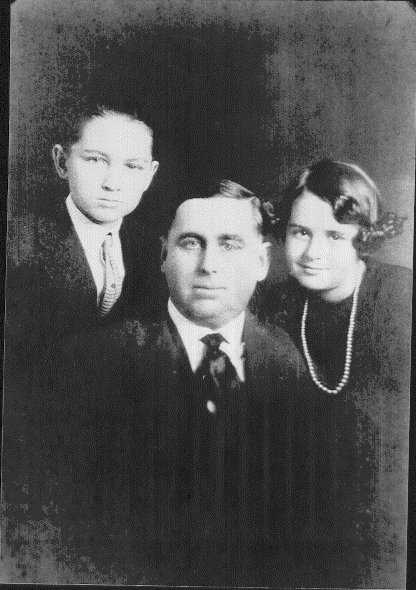 Ralph Gould
Ralph William Gould was born June 12, 1886 in Montgomery County, Iowa, but grew up in Hennessey, Oklahoma. In 1910 he married May Lillian Rutledge, the daughter of Jacob Owen Rutledge and Mary Elizabeth Meade. They had two children, Dee Leon, born March 13, 1911, and Mary Evelen, born in 1913.

From May's diary, we know that Ralph spent much time working, and that she was often home alone with the children. They were often moving, and lived in several places before settling in Cleveland, Oklahoma. Ralph worked as a meat cutter at the Gem Grocery Store, but later went into partnership with E. W. Means and opened the G & M Food Store. His daughter, Mary Gould Spears, recalls him playing a practical joke on Mr. Means, who was fond of bragging on his laying hens. Ralph would take eggs from the store and sneak them into the chickens' nests, and eventually increased their yield to the point where Mr. Means was forced to stop his boasting and realize he was being had, much to the amusement of his friends.

In 1920, May left to join her sister in Houston, Texas, where she studied nursing. In 1925 she divorced Ralph and remarried. Ralph was left to care for their two children alone (see photo, right). He never remarried, but put long hours into running his store, extending credit to those who could not afford food during the depression, and never asking to be repaid. His daughter recalls how, on Saturday nights during the summer, Ralph would close the store and take a train to Tulsa to see baseball games, returning in the wee hours Sunday night, just in time to open the store again Monday morning. A loving father, and a respected businessman, he remained in Cleveland until his death from malarial fever on July 25, 1934, at the age of 48. He is buried next to his parents in Hennessey.
Links:
Rhonda Steedman's Family History Page

This page was last updated on 7 February 2012
Copyright © 2012 Rhonda Steedman All Rights Reserved