Scott and Rhonda > Family History > Donoho
Donoho Family History

Major Donoho
Major Donoho was born between 1755 and 1764. He lived in Sussex County, Delaware before moving to Fayette County, Kentucky around 1805. Major was married twice. His first wife was Sarah Williams, widow of James Truitt, who was born about 1756. Sometime between 1800 and 1810, Sarah died and Major married Emily, who was born around 1781 in Delaware. Further research is needed to determine which of Major's children belong to which mother, but since Sarah would have turned 50 around 1806, it seems likely that the children born in Kentucky were Emily's. About 1823, Major moved his family to Illinois, settling east of Peoria near what is now the Tazewell/Woodford County line. They were early settlers of the area, and were mentioned in several local histories, under various spellings of the name such as Donahoe, Donohue, etc. Major served as a grand juror in fall of 1825. Jury duty at the time involved bringing a bedroll to sleep on the courthouse floor during the four-day trial. Major died on May 20, 1827 without leaving a will, and Emily filed for letters of administration and for guardianship of his minor heir, Rachel Ann Donoho. One of the receipts presented to the court was for whiskey for the estate sale. Emily died sometime after 1860, when she was living in Pekin, Tazewell County, Illinois. From census records, land patents, and county histories of Peoria, Tazewell, and Woodford Counties, the following list of Major's children has been generated. It may be incomplete.
1. Elizabeth Donoho, born 16 Oct 1800 in Delaware, died 18 December 1867 in Woodford County, Illinois. Married 22 May 1825 in Peoria County, Illinois to William Blanchard, early settler. Their children were Robert, Thomas, William, Mary and Maria.
2. Allen S. Donoho, born about 1803 in Delaware, died 25 Dec 1860 in Montgomery County, Iowa. Married 22 Aug 1833 in Tazewell County, Illinois to Kitty Ann Reid. Their children were Major, James, Martha, Emma, Charles, Mary, and Ernest.
3. Thomas Donoho (My ancestor, see photo), born 13 January 1806 in Kentucky, died 11 November 1868 in Montgomery County, Iowa. Married 11 Mar 1851 in Woodford County, Illinois to Electa Elizabeth Sherman. Their surviving children were Sarah, Orlando, and Alice.
4. Emily Donoho, born about 1809 in Kentucky, died 25 November 1888 in Illinois. Married 17 Oct 1825 in Peoria County, Illinois to Jacob Wilson, an early settler. Their children were Sarah, Robert, Thomas, Joseph, George, Mary, and Charles.
5. Rachel Ann Donoho, born between 1811-1815 in Kentucky, died after 1870. Married before 1831 to Harvey H. Bateman, who died in 1844. Their children were Jane Adaline, Mary Ann, Catherine, Margaret and (unknown). Her only surviving child, Adaline, married Marcus Cooper and had a son named Harvey H. Cooper, a brick mason who lived in Santa Monica, CA in 1920.
6. George Donoho, born about 1815 in Kentucky, died after 1850, wife Millicent? son Hunter? George lived in Burlington, La Salle County, Iowa between 1850 and 1854. Evidence for George being part of the Donoho family is somewhat limited. He purchased land as tenants in common with Emily in the 1830's, and two young men enumerated with him in the 1850 census have the same names as two of Elizabeth's sons.
Thomas Donoho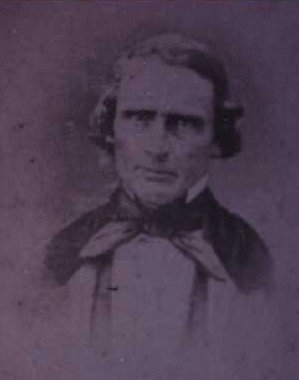 Thomas Donoho married Electa Elizabeth Sherman (see photo) on March 11, 1851 in Woodford County, Illinois. He was 45, she was 23. The following year, their first child Sarah Florence was born in Illinois. In 1854 they moved to Montgomery County, Iowa and purchased 40 acres of land on the Nodaway River from William Stipe. The land was part of present town of Grant. Thomas and Mr. Stipe built the first dam on the Nodaway River and dug a ditch to carry the water to a corn burr for grinding cornmeal.
In 1855 Thomas and Electa's only surviving son Orlando Sherman Donoho was born. In 1858 Thomas filed a plat laying out the town of Milford, which he sold to Samuel M. Smith.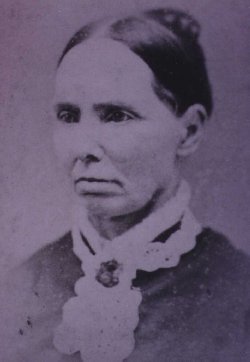 Another son was born to the couple, but died as an infant and is buried in Grant Cemetery. On January 28, 1860, the Donohos' youngest child, Alice Maria was born. Thomas was commissioned the first postmaster of the town of Milford, whose post office was named Grant, as there was already a Milford post office elsewhere in the state. The post office was a log cabin. Thomas died November 11, 1868 at the age of 62, and was buried in Grant Cemetery.
Electa served as postmistress of Grant for 20 years, platted an addition to the town in 1875, and provided the land on which the Methodist Church stands. In the spring of 1893 she moved to Hennessey, Oklahoma Territory where her two daughters lived with their families and built a house. Just after the house was completed she fell ill, and died at the home of a daughter on June 3, 1893. She was 65. Her remains were returned to Iowa, and she was buried next to her husband in the old Grant Cemetery.
Alice Donoho, wife of Edward Gould, died in 1916 in Hennessey, Oklahoma. Orlando Donoho lived his entire life in the town where he was born, but died at the home of his sister Sarah, widow of John Tighe, in Kansas City in 1936. He had no children.
Links:

This page was last updated on 7January 2013
Copyright © 2013 Rhonda Steedman All Rights Reserved