Scott and Rhonda > Family History > Kwiatkowski
Kwiatkowski Family History


Michael J. Kwiatkowski was born July 2, 1873 in the province of Poznan, Poland. According to my grandfather, Mike had two brothers, Joe and Martin, and two sisters, one known as Magdalena or Martha and another who may have been named Anna, who moved up north, but came to visit her sister from time to time.
According to Mike's death certificate, his father's name was Anton Kwiatkowski, but his name is given as Willie on Joe and Magdalena's death certificates, and as Valentine in Magdalena's marriage record, which would be the Latin translation of the Polish name Walenty, which was sometimes shortened to Willie. I was told by my great grandmother that Mike's mother was named Mary, and all records found support this.
According to his naturalization papers, Mike arrived at Galveston, Texas on December 3, 1886, but this is at odds with the various dates given in census records. His brother Joe gives an arrival date of Feb 1890 from Antwerp to New York, and a ship's passenger list for Feb 1891 has been found for the ship Westernland which lists a Joseph and Michael Kwiatkowski of about the right ages. Around this time, millions of Poles were fleeing German oppression in their homeland, hoping to find the freedom to own land and speak their own language in America. Mike told his grandson Bruno that they left Poland promising to return. They never did, and instead settled in Washington County, Texas on the far side of Brenham. It is unclear whether Mike's father came to America, but his mother did, and was listed as a widow in the 1900 Census, staying with her sons near Brenham. She died in 1902.
The Kwiatkowski Family's Origin in Poland
Passenger lists for Hamburg and New York for the ship Marsala, which arrived in February 1895 include a Marianna Kwiatkowski, age 53, with her daughter Magdalena, age 9 from "Bendzitowsko, Posen." The closest match in modern Poland is Bedzitowskie Huby (where the "e" is a Polish character with a little tail under it that is sometimes converted to English as "en" as when the name Kedziora becomes Kendziora). Google Maps shows a village called Bedzitowo, but Wikipedia has an entry for Bedzitowskie Huby, a village in the gmina (district) of Zlotniki Kujawskie, within Inowroclaw powiat (county), Poland south of Bydgoszcz. The parish church for Bedzitowo was in the town of Lisewo.
The Poznan Project lists a marriage in the neighboring parish of Pechowo in 1860 for a Valentinus Kwiatkowski, age 26 to Marianna Wieczorek, age 19. The microfilmed marriage record lists the marriage on August 11, 1860. Valentine is a farm worker from Gnojno, Inowroclaw, Poland. Marianna is the daughter of Valentine Wieczorek and his wife Rosalia, whose maiden name was Skibinska. The church records of Pechowo list two daughters of Valentine and Marianna, Josepha born Dec 29, 1861 and died April 28 1863, and Antonina, born April 11, 1864.
The family disappears from the Pechowo records after 1864, but appears again in nearby Lisewo where their son Martin's baptism record lists his birth on Nov 1, 1882 in Tarkowo. Their daughter Magdalena's baptism record lists her birth on April 6, 1886 in Bedzitowek. Further research will be required to establish where the family was living during the intervening 18 years to find baptisms of the remaining children, but this seems very likely to be the correct Kwiatkowski family.
Joe Kwiatkowski married Marianna Stegent on October 5, 1892 in Brenham. They had a large family and remained in the Brenham area. Joe died in 1953.
On November 13, 1895, Mike married Franciska (Frances) Skweres at St. Mary's Catholic Church in Brenham. Their witnesses were Andreas Stegent and Thomas Owczarek. Frances was the daughter of Joe and Agnes Skweres from the village of Malenin, Poland and had immigrated in 1891.
Recent research has revealed that their sister Anna was in Washington County, Texas in 1900, working for the Bilski family. In 1903 she married Lucas Sobjack (Sobczak). The witnesses were Joseph Bilski and Michael Kwiatkowski. Lucas and Anna moved to Ferndale, Washington, north of Seattle. They had one son, Joseph Frank Sobjack, born in Washington State, where his descendants can still be found. Anna's obituary in 1952 mentions that she had family in Texas.
While it was previously believed that Martin Kwiatkowski never married and lived in Brenham, recent research has shown that he married Mary Paskiet (Paszkiet) in 1906 and moved to Toledo, Ohio between 1914 and 1920, along with his wife's parents, John and Victoria (Wisniewski) Paszkiet. Victoria's brother Stanislaus married Rosalia Skweres, the sister of Mike Kwiatkowski's wife. Brenham parish records list the birth of three children to Martin and Mary between 1907 and 1911, but in the 1920 census they are listed in Toledo with only a daughter named Anna, born about 1914. Martin died in 1946 in Toledo.
Mike's sister Magdalena Kwiatkowski married Anton "Willie" Reisner in 1909 and moved to Cameron, Texas in the 1920's. They had a large family. Maggie died in 1958.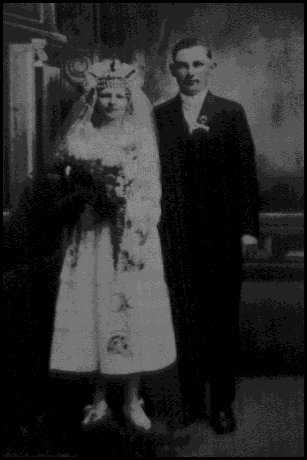 Mike and Frances had 7 surviving children: John, Cecelia "Ella", Mary, Pete, Kashmera "Carrie", Billy, and Theresa. Two other baptisms are found in the Brenham church records, for children Wladislawa, born in 1897 and Ladislaus, born in 1904. The children attended Catholic school in Brenham, and were taught to read and write in Polish.
In 1906, changes in the federal naturalization laws led to rumors that anyone who didn't apply for citizenship would be deported, and the Washington County Poles rushed to complete their naturalizations before the new laws took effect. On September 24, 1906, Mike petitioned and was granted United States citizenship.
Between 1917 and 1919, during the first World War, Mike, his son and two nephews filled out draft registration cards in Brenham, listing their birthdates, occupation, next of kin, and physical descriptions. These cards were preserved, and describe them as slender with dark hair and brown eyes. After the war ended, for the first time in their lives Poles could point out their homeland on a map. For the first time in over 100 years, Poland was a free and separate country.
Mike and Frances' children were starting to grow up and leave home. Cecelia "Ella" married John Meschwitz in 1921. Two weeks later John married Annie Reisner. Mary (see photo, left) married Max Brzymialkiewicz in 1922. By 1923 Mike and Frances were grandparents, but there were still several children at home to help with the chores and the farming.
On January 26, 1928, according to a cousin, Frances had just finished serving the family lunch and was clearing the table while the children went out to feed the animals. From the yard, they heard the sound of dishes falling and ran back to the house where they found their mother had collapsed. They ran to get their father from the fields, and a doctor was called, but it was too late, Frances was dead. She was only 56 years old, just one year older than her mother had been when she died. Mike was left a widower at 54. The youngest child, Theresa, was 12. Frances was buried in the Catholic Cemetery in Brenham.
Two years passed. Kashmera "Carrie" married Mitchell Cendalski in September 1929. Pete married Stella Cendalski (sister of Mitchell) in October of 1930. A month later, Mike followed his son to the altar. It was November, 1930, and the country was in the midst of the great depression. Mike was 57, and a grandfather. Frances Antkowiak was 47, and had never been married. They would spend 18 years together. Together, they would see their homeland Poland fall to Germany again in World War II, and once again be freed. They watched the remaining Kwiatkowski children marry and raise families, saw grandchildren marry and start families of their own. Theresa married Steve Nowak in October 1933. Billy married Wladyslawa Cendalski (sister of Mitchell and Stella) in October 1934.
On August 1, 1949, Frances died at the age of 65. Mike, now a great grandfather, was alone once more. Times had changed. He saw his sons and grandsons struggling, trying to survive farming the land as he had done, and one by one, he saw them fail. The changing times led many to leave the farm for jobs in town.
Mike died on November 10, 1955 at the age of 82. He and both his Franceses are buried at Calvary Cemetery in Brenham.
Links:
Rhonda Steedman's Family History Page

This page was last updated on 27 March 2012
Copyright © 2012 Rhonda Steedman All Rights Reserved