Scott and Rhonda > Family History > Brzymialkiewicz
Brzymialkiewicz Family History

Ignac Brzymialkiewicz was born about January of 1863 in the province of Poznan, Poland, which was at the time ruled by the German Emperor. Although Ignac's home village has not been identified, research indicates that he came from a village just south of Gniezno, the oldest city in Poland. One tradition that survives of Ignac's life in Poland is that his father went somewhere with a cow, and that he never returned. Ignac's death register entry gives his father's name as Martin Brzymialkiewicz. Another family tradition recalls that either Ignac's father or grandfather was a German by the name of Sam Ellis, and that he was going to be drafted into the German Army but his family would not be paid for his service. To avoid this, he reportedly fled to Poland and took the name Brzymialkiewicz, which may have been his wife's family name.

Between 1871 and 1875, Germany began seizing the Poles' land and selling it to German settlers. The Poles, who had traditionally owned farms averaging 80 acres, found themselves driven off their land, and began emigrating to America, where the Civil War had created a labor shortage. Between 1870 and 1914 more than 4 million people left the Polish homeland.

When Ignac was about 19 years old, he left Poland for America. According to Ignac's Naturalization Records, he landed at New York on Monday, May 15, 1882, then made his way to Texas, and settled at Chappell Hill.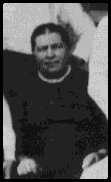 On Sunday, November 15, 1885, at about the age of 22, Ignac married Stanislawa "Stella" Krolczyk, another Polish immigrant, in St. Mary's Catholic Church in Brenham. The witnesses were Frances Klawitter and Albert Flisowski, but their relationship to the couple is not known. Ignac and Stella's first child, Boleslawa, called "Bolayha" [spelling is phonetic], was born in September of 1887. Ignac and Stella had 14 children in all:
Boleslawa "Bolayha" or "Bessie" (1887-1950) m. 1) John Sojkowski (1889-1918) 2) John Tafelski (1876-1952)
Apolonia "Pwelka" (1888-1950) m. Piotr "Pete" Kubeczka (1881-1947)
Leokadia "Loowaha" (1889-1969) m. Ludwig "Louis" Mouskawicz
Wlodeslaw "Walter" (1891-1964) m. Victoria Klawinski Janczak (1897-1952)
Josephine (died, age 10 months)
Theodore (died age 2 months)
Helen (1895-1973) m. Albert Kaminski (1892-1973)
Michal "Mike" (1896-1989) m. Hedwig "Hattie" Majewski (1898-1978)
Piotr "Pete" (1898-1962) m. Theodosia "Tasia" Skweres
Valentina (died as a child)
Salomea (died age 5 months)
Maksymilian "Max" (1901-1984) m. Mary Kwiatkowski (1902-1988)
Andreas (died age 2 years)
Adam (1906-1981) m. Cecelia Nowak
On Tuesday, October 27, 1896, Ignac began the process of becoming a citizen by filing his Declaration of Intent in the District Court of Washington County, Texas. He petitioned and was granted citizenship on Monday, September 17, 1906, 24 years after arriving in the United States.

Ignac's younger brother Franc came to America in 1906 on the ship Brandenburg, landing at Galveston, Texas on September 8, 1906. Ship's records show he had $5 in cash, and was headed for Chappell Hill. Max Brzymialkiewicz remembered going to the train station with his father, Ignac to greet his uncle. They spoke together in German. Franc decided not to stay in Chappell Hill, and instead headed for the coal mines somewhere up north, where he died a bachelor. When he died, word was sent to Chappell Hill requesting burial instructions. The family replied that he should be buried up north, not sent to Chappell Hill.

Ignac bought a 177 acre tract of land for $34 an acre and built a house for his family. A large photograph of the family was taken on the front porch of the house shortly after its completion, about 1917. Walter was in the army at the time, and is missing from the picture. The house can still be seen today, alongside Highway 290 West just outside Chappell Hill. After Ignac's death the farm was divided into two parcels and farmed by Pete Brzymialkiewicz, who lived in the house, and Pete Kubeczka, Apolonia's husband.

Ignac died on Saturday, December 13, 1925 at about 63 years of age and was buried the following day in St. Stanislaus Catholic Church Cemetery in Chappell Hill. Stella died less than a year later, on Thursday, November 11, 1926. She is buried near her husband in Chappell Hill. Their large headstones are written completely in Polish. Each reads "Tu Spoczewa Sw. P." or, in English, "Here lies the sacred memory of...."
Links:
Rhonda Steedman's Family History Page

This page was last updated on 21 May 2012
Copyright © 2012 Rhonda Steedman All Rights Reserved