Scott and Rhonda > Family History > Hintzel
Hintzel Family History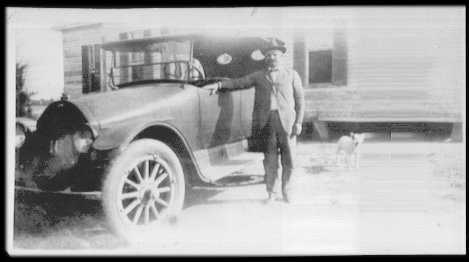 Stanislaus "Steve" Hintzel (see photo) was born November 12, 1869 in the village of Wegorzewo, Slawno Parish, Poznan, Poland. He was the son of Wojciech "Adalbert" Hentzel and his second wife, Carolina Kurzawski. Wojciech was born about 1828 and may have been from Wronczyn, where he married his first wife, Anna Hanska or Hausga in 1848. She was born about 1820. They had three sons and four daughters between 1850 and 1862, with two sons dying as infants. Anna died on January 22, 1867, and Wojciech quickly remarried to Carolina on 12 May 1867 in Slawno, Gniezno, Poland. Carolina was born about 1848, making her about 20 years younger than Wojciech.
Steve had an older sister, Apolonia, and two younger sisters, Stanislawa and Anastasia, as well as the older half brother and sisters from his father's first marriage. According to documents written in German and filed with the church records in Poland in 1905, the correct spelling of the name is Henschel. It is unclear whether the family was German or Polish, but the family consensus is that Steve Hintzel was at least half German.
Census records give several possible dates for Steve's arrival in the US ranging from 1893 to 1899 (which is clearly incorrect). According to his naturalization records, on April 14, 1897, Steve boarded the ship "Soloman" at the Port of Bremen, Germany, and arrived at New York on April 22. No record of a ship named Soloman has been found, but there was a ship named the "Saale" which traveled from Bremen to New York during this time. A passenger list from March 12, 1896 lists Stanisl. Henzel, age 26 from Germany with the same destination as a Martin Przyborski, age 24, whose name is also found in Washington County, Texas records, who also comes from the Gniezno area of Poland, and who got married the year after Steve Hintzel.
According to his daughter Martha, Steve had fled in fear for his life with nothing but the clothes on his back. He made his way to Chappell Hill, Texas. There he met Annie Ogniewski, who remembered him coming to see her with no shoes on, because he couldn't afford any. Annie, who was born in Washington County on October 5, 1877 was the daughter of John and Theresa (Prystatska) Ogniewski. Steve and Annie were married on July 28, 1897. They settled down in Austin County near Burleigh.
Their first child, Marianna, died at the age of 3 months. According to the 1900 census, they also lost another baby before 1900. The 11 surviving children were Pete, Anton, Martha, Willie, John, Paul, Edward, Theresa, Stanley, Sophie, and Frances. The Hintzels owned a large farm and a nice two story house. Both can still be seen today, although the house has been moved a few miles down the road (see photo). After Annie's death on March 12, 1941, the family farm was sold off.
Steve died of cancer on January 14, 1952 at a hospital in Galveston. Annie is buried in the Catholic cemetery at Chappell Hill. Steve is buried in Bellville's Oak Knoll Cemetery.
Links:
Rhonda Steedman's Family History Page

This page was last updated on 2 June 2011
Copyright © 2011 Rhonda Steedman All Rights Reserved